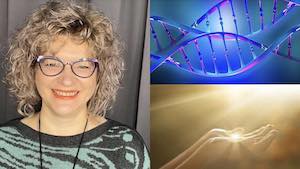 30-day
self-awareness
through
Reiki
practice
challenge
with
Ruta
Reiki
Mercar
30-day self-awareness through Reiki practice challenge with Ruta Reiki Mercar
Self-awareness practices, DNA activation through practices, Reiki and awareness practices, affirmations, meditations
Starts on 7th of April, 2023.
Investment 52.00 EUR or USD
Reiki is a form of energy medicine that originated in Japan. The basics of energy medicine are as old as history.
Reiki is a Japanese word. "Rei" means "God's wisdom or higher power" and "Ki" means "life force energy".
Scientifically, Reiki is the emission of biophotons (light) transmitted from one organic species to another. Reiki balances the recipient's disturbances in their body's bioenergy field. As Albert Einstein stated in his equation in the 1920s, everything, including our bodies, is made of energy.
Charming or not? Everything in life is, on a scientific level, made up of energy. Your great body is made of energy, and with your body you have the ability to radiate and absorb energy. This is the beauty and power of Reiki. You have the ability to shift and balance your energy.
You are energy.
And I can lead you.
In this 30-day self-awareness challenge through Reiki practices, I will help you to know yourself, to reveal the beauty and benefits of daily Reiki practices for yourself, your family and other people. You will more easily overcome unhelpful and outdated life patterns and emotions, as the flow of Reiki energy infused with the practices and meditations will prepare you for an ascension of energy to become your best self.
This course includes everything from my own personal practices, including guided meditations and practices to help you connect more deeply with your abilities, self-harmonization, and little reminders to be more compassionate, gentle, and kind to yourself even on the hardest or most chaotic of days.
Reiki treatment is for everyone!
The 30-day Self-Knowledge through Reiki practice is your way to find total balance and complete Zen in yourself.
For 30 days, you will receive one 20-30 minute Reiki practice and guided meditation session per day directly to your email. 
For 30 days you will use zen wherever you want. All you need to get started is an email address and 20-30 minutes a day to relax and let Reiki harmonize you. Join Ruta Reiki Mercar and many others on this amazing journey.
Anyone who wants to learn how to calm their mind and be a little less stressed is welcome to join. No previous experience is necessary.
The 30 Day Self-Awareness Through Reiki Practice Challenge with Ruta Reiki Mercar includes:
Daily 20-30 minute Self-awareness practices, DNA activation through practices, Reiki and awareness practices, affirmations, guided meditation session.
All classes are designed to nourish your mind, body and soul.
Affirmations of compassion and kindness even in the most difficult or chaotic days.
Bonus! Get a discount of €60.00 in 2023 March. For Reiki Mercar Attunement Trainings (coupon code will be sent upon registration).
Location:
Course records are sent daily to e-mail.
Investment: 52 EUR or USD (Courses will be held in Lithuanian and English).
30-day self-awareness through Reiki practice challenge with Ruta Reiki Mercar investment and registration:
•Investment of
EUR 52.00
in the Luminor account of VšĮ "Ruta Reiki Mercar Training and Research Institute":
LT044010051004206438.
Company code:
304768865.
Specifying your name, surname and purpose of payment in the purpose of payment.
• In case of written and e-mail warning about non-participation in the challenge earlier than 3 days in advance. before it starts - all money paid in advance is returned.
•Notifying or failing to notify the challenge less than 24 hours prior. - money is not refunded.
• After payment, please inform me by e-mail. by e-mail
rutareiki@mail.com
and
rutajan369@gmail.com
 by sending a copy of the payment order indicating your e-mail email address and phone number. This is how you sign up for an organized challenge. A discount code will be sent to you upon receipt of your payment.
The 30-day self-awareness challenge through Reiki practices will be led by Rūta Janulevičienė (Ruta Reiki Mercar)
Rūta Janulevičienė is an internationally recognized Reiki Mercar master teacher and an ICRT-registered Karuna Reiki master teacher. She has been a member of the Labyrinth Society since 2012 and She is their regional representative for Lithuania. Ruta conducts hands-on workshops that combine Reiki and the Labyrinth to help others gain self-awareness and healing opportunities. Research interests: psychology, coaching, Silva's method, psychotherapy, Rūta is also a psychodrama assistant. Reiki Healing and Teaching (13 years), Karuna Reiki Healing and Teaching (10 years). Veridit is a trained labyrinth guide. Regional ambassador of the International Labyrinth Organization for Lithuania and relations with Europe. Head of the Projects Committee of the Board of Directors of the International Labyrinth Organization. Working with labyrinths, conducting labyrinth therapy (11 years), practical seminars with psychodrama warm-up elements, meditations and practical tasks (9 years).